Remote Sensing Data — The Need for Speed
Moderated by SpaceLink Senior Strategic Advisor, Rob Zitz, this panel session at the Small Satellite Conference features top industry execs and government officials discussing the importance of real-time access to satellite data.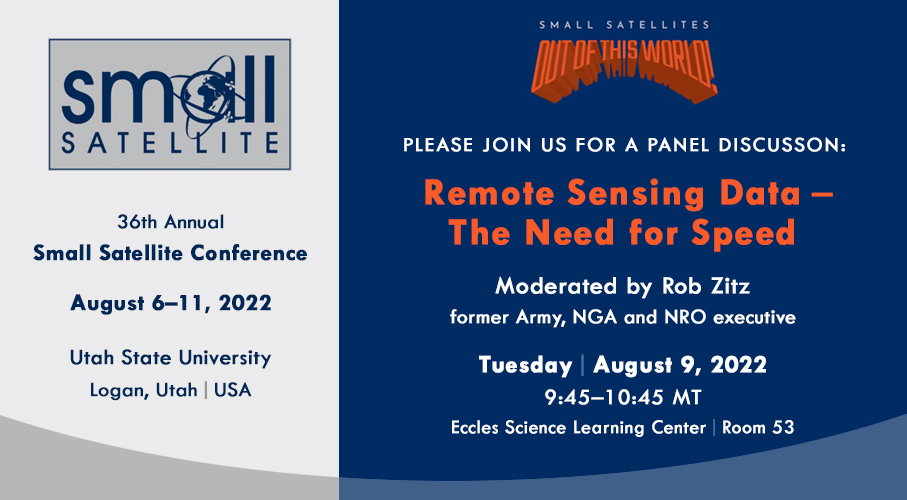 Getting remote sensing data to the tactical edge at the speed of relevance is essential to support disaster relief and tactical military operations. During this Small Satellite Conference Side Session, U.S. Government and industry experts will discuss the need to access critical data in minutes to seconds, rather than hours, and the new technologies and services that accelerate timelines.  Moderated by SpaceLink Senior Strategic Advisor, Rob Zitz, the panel includes:
Topics of Discussion:
100 percent line-of-sight access to Low Earth Orbit (LEO) satellites, eliminating delays between the collection of commercial remote sensing data and the delivery of the data to the end user
Real-time tasking and direct downlink of mission critical data
On-board processing to support real-time, same orbit tip-and-cue between multiple and diverse remote sensing satellites (e.g., RF to SAR to EO visible)
The ability to augment proliferated LEO communications satellites providing a resilient 'fail-over' capability for government communications paths during periods of either pre-planned, or adversary-caused loss of communications.
The discussion of the importance of real time access to satellite data is on Tuesday morning, August 9, 2022 at 9:45 a.m. in ESLC room 53.
The Small Satellite Conference is held each year at Utah State University in Logan, Utah. It has become internationally recognized as the premier conference on small satellites, which provides a forum for the best minds in the small satellite community to review recent successes, explore new directions, and introduce emerging technologies in small spacecraft development. In addition to creating an excellent environment for networking and talking with experts in military, science, and academic fields, the conference offers a program of international relevance, focusing on the key challenges and opportunities facing the small satellite community today.